Germany, France, Portugal, and Italy. Two of these teams failed to make it out of their groups at the '02 World Cup; the other two failed to get out of their groups at Euro '04. In a week, one of them is going to put that behind them and hoist the Jules Rimet trophy. A few thoughts:
1. You think homefield matters to these European sides? If that's the rule, then we might just be biding our time before the Germans with their fourth World Cup. Normally, that would faze me, but there are a couple reasons why I like this German team. First, they're coached by a leftist who lives in California and who famously tangled with Lothar Matthaus because he refused to sign "Deutchland Uber Alles" when the two of them were players. Second, up until yesterday, they had played the most exciting brand of football in the tournament. Spurred on by an American fitness coach (another reason to like the Germans), they've played a higher pressure style than anyone else. What they need to figure out is how to play that style past 90 minutes, because most of their players looked spent in extra time yesterday.
A German that a liberal Jew can appreciate.
2. My
told
you
sos:
a. Penalty kicks are not a lottery and they aren't luck. They reward teams that can keep their composure and field good keepers. Unless you think it's an accident that Jens Lehmann and Germany won again in penalties and England and Paul Robinson lost again in penalties, I think this is pretty unmistakable. The German reactions to their successes yesterday were telling: no big celebrations or whoops after saves or goals, but rather simple, understated happiness demonstrating that they expect to score and keep their heads about them. Contrast that with Owen Hargreaves' wild yelling after he was the only English player to score, or Paul Robinson's shouting after he dove the wrong way and Hugo Viana hit the outside of the post.
b.
England will advance because they are in a weak group and are slotted to play a survivor from another weak group in the first knock-out round, then they'll lose in some sort of bizarre circumstance (probably after blowing a lead, as has been their pattern under Sven), and they'll cross back over the Channel muttering about their bad luck yet again.
c.
Want a good dark horse? Meet Australia. They're coached by Guus Hiddink, who has only taken South Korea to the World Cup semis and then PSV to the Champions League semis in the past four years. (He also got the Dutch to the semis in '98, their best showing in the World Cup since losing the '74 and '78 finals.) They have a team full of players with Premiership experience, led by an in-form Harry Kewell. And most importantly, they are drawn in a group with Croatia and Japan, both of whom are eminently beatable for the Aussies. Japan are going to find life a little tougher away from home (and I bet the Germans will still be bitter about that whole "not opening a second front in Siberia" in late 1941). Croatia? Well, according to World Soccer, Dado Prso is their only world class player. Alrighty then.
If only Lucas Neill knew to stay on his feet in the box.
d.
Ronaldinho isn't in the best form right now. As I've said over and over again, his shooting has been off-form in 2006. He also isn't quite the dribbler he was before, probably because many of his tricks have been scouted by now. His passing is still sublime and he doesn't get the credit he deserves for being a strong player who can't be knocked off the ball. Overall, he's still the best player in the world for my money, but in terms of form, he isn't the best player in the world in June 2006 (unless he picks things up after having had a little time off).
e.
European World Cups tend to be form affairs: West Germany/Holland/Brazil/Sweden were the last four in '74; Italy-West Germany-Poland-France in '82; West Germany-Argentina-England-Italy in '90; and France-Brazil-Holland-Croatia in '98.
Those are almost enough to make you forget that I took the Dutch to win the whole thing (with Ukraine, Brazil, and Argentina joining them in the last four) and I thought that the US would actually win a game. Right?
Miss Cleo knows better than to pick the Dutch.
3. Much as it pains me to watch France advance, it's a joy to watch Zidane dip into his bag of tricks and show his form from the late 90s. He dominated Brazil today, with major assistance from Patrick Viera and Claude Makelele. The three of them bossed Brazil around in the midfield, which meant that the Selecao couldn't keep possession or set their playmakers up in good positions. Ronaldinho did some nice things, especially a free kick in the first half that found Ronaldo on the back post and a nice run and header in the second half that set Robinho up, but generally, he was starved for service. Instead of having Deco, Iniesta, and Edmilson controlling midfield and spraying the ball out to him as he has at Barcelona, Ronaldinho was a peripheral figure today. Zidane was the story today. He gave Henry a finish that even I could bury (the one time Henry could be bothered to stay onside) and he generally showed perfect control and passing from start to finish. When my child is old enough to play soccer, I'll show him/her a tape of this game as the Platonic ideal for midfield play...and then the youngster will get bored and demand to watch the Wiggles and I'll get a lesson in parenting (or my own eccentricity). And let's give a mention for France's defense, which has been rock solid ever since '98 and today was no exception. They simply do not make mistakes, other than Barthez who is the luckiest guy in the world to get to play with Abidal, Sagnol, Gallas, and Thuram in front of him. He's truly the Luc Longley of this French side.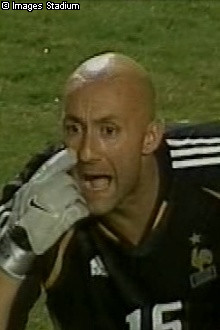 Mssr. Figo, I'll take it all back if you can expose this clown.
4. The Germany-Argentina game yesterday was a perfect illustration of why teams should get additional subs at the end of 90 minutes. How much better would that game have been if Pekerman could have thrown on Messi and Aimar and Klinsi could have thrown on Asamoah and Kehl. Did anyone really need to see Michael Ballack laboring around for the last half hour? And speaking of Ballack, kudos to him for sucking it up and burying his penalty, although I think his was the poorest shot of the four German kicks. Between his guts and his assist on the German goal, he's living up to the enormous pressure he's been under as the star player for the host nation. I look forward to Jose Mourinho chasing the life out of him in another joyless march to a Premiership title.
5. Compare Klinsmann's willingness to bench captain and icon Oliver Kahn in favor of in-form Jens Lehmann with Sven Goran Eriksson's unwillingness to do the same with David Beckham and Aaron Lennon. I know that Beckham can hit a free kick well, but England has a number of players who can do so (although maybe not quite on the same level) and there is no comparison between the threat that Lennon poses and the "threat" that the immobile Beckham poses. Lennon acquitted himself very well in this tournament for England, as did Steven Gerrard (the one England player who is worth the hype), Owen Hargreaves (who has that German workrate and ability to take a penalty), Rio Ferdinand, and Ashley Cole. Frank Lampard and Wayne Rooney? Not so much.
6. Was I the only one who thought that Miguel was the man of the match today for Portugal, at least in the first 120 minutes before Ricardo put on a show in the penalty kick stage? Miguel was a defensive rock, he mostly neutralized Joe Cole, and he is incredibly fast and still in control coming forward. Also, he made the biggest play of the game for Portugal, heading away Gerrard's fine cross in extra time that looked certain to end up on Peter Crouch's head. Miguel winning a header in the six-yard box in those circumstances against a much taller player and heading the ball to safety was one of the plays of the tournament. If I had to come up with a short list of players likely to get expensive transfers after this tournament, Miguel from Valencia and Frank Ribery from Marseilles are the first two that come to mind. I was also impressed by Cristiano Ronaldo, who seemed to refrain from useless step-overs for one game and looked genuinely dangerous with the ball. The fact that Dave O'Brien was awed by a few of the meaningless step-overs from Ronaldo, well, I think we've covered that topic already.
And speaking of which, I watched the first 20 minutes of the England game on Univision and then cut over to ABC to see how the much-maligned Balboa and O'Brien were faring. Within a minute, Balboa offered the gem that the England head coaching job is the most difficult in the world because there are so many good players from which to choose and those playres are highly paid and hard to control. Gee, that couldn't possibly describe about ten other national team jobs, could it? (I would be willing to listen to an argument that the job is difficult because of the insane interest and media pressure in England, similar to the Alabama head coaching job in college football, but that wasn't Marcelo's angle.) Needless to say, I was back to Univision shortly thereafter after getting frustrated by O'Brien's desire to talk about everything except for what was going on on the field. JP Dellacamera was a welcome relief during the France-Brazil game, although I muted him at one point after he mentioned for the 687th time that this could be Zinedine Zidane's last game.
7. From
Soccernet's write-up
of the England game, here's what I love about the English media:
But there was nothing friendly about the way Manchester United's Portuguese winger got his club-mate sent off.

Rooney was battling to keep possession from three Portugal defenders when he raked his studs across the leg of Carvalho, who was on the floor trying to win the ball.

Chelsea defender Carvalho over-reacted and Ronaldo sprinted to the referee, apparently to demand a red card.

Rooney turned to his Manchester United team-mate and pushed him away.

Referee Horatio Elizondo then reached for the red card and sent Rooney off.

Elizondo, from Argentina, sent Beckham off in the World Club Championships in 1999.
For historians writing about the game hundreds of years from now, note that the write-up conveniently omits the fact that Carvalho was "overreact[ing]" to being stamped in the crotch. England was only forced to bravely fight on because their star forward is a Scouser who can't control himself. This wasn't an asteroid falling to earth; this was Rooney being Rooney.
If Wayne Rooney were a Corleone...